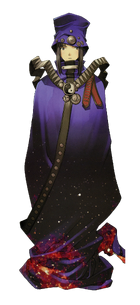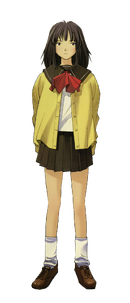 The Boogiepop Wiki is a fan-made wiki for the Boogiepop universe that anyone can edit! This wiki contains spoilers about the entire Boogiepop series, as well as its spin-offs. Proceed at your own risk.
Getting Started  •  Editing Guidelines  •  To Do  •  Category Help
The Boogiepop Wiki is currently under heavy construction. Due to the lack of an English translation for most of the series, any information about currently untranslated works is heavily appreciated. If you'd like to contribute to the wiki, please refer to the above links.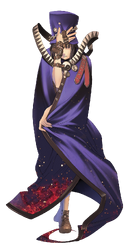 The
Boogiepop Series
(ブギーポップシリーズ,
Bugīpoppu Shirīzu
) is a light novel written by
Kouhei Kadono
and illustrated by Kouji Ogata. It has multiple forms of media with interlaced stories, from the original light novels to anime and manga.
The classic series follows the titularly named shinigami, Boogiepop. Among the female youth, this specter is rumored to be an attractive boy wearing a strange cape, who kills people at the most beautiful point of their lives, before they can grow any uglier. Unbeknownst to those spreading the urban legend, inside the body of a regular high school girl, Touka Miyashita, Boogiepop dwells as a mechanism that floats to the surface whenever a threat to the world appears, ending the lives of those responsible.
There is an urban legend that tells of a shinigami that can release people from the pain they are suffering. This "Angel of Death" has a name—Boogiepop. And the legends are true. Boogiepop is real. When a rash of disappearances involving female students breaks out at Shinyo Academy, the police and faculty assume they just have a bunch of runaways on their hands. Yet some students know better. Something mysterious and foul is afoot. Is it Boogiepop or something even more sinister...?
Source MAL
Five years ago, a string of grisly murders shook the city to its core and now the rumors have begun once more. Boogiepop... Everyone knows about Boogiepop: meet her one dark night and you are taken. People tell each other the stories and laugh: no one believes that she can possibly exist in this day and age. Still, strange things appear to be going on and the darkness is taking on many forms. Something is out there. Are you safe?
Source MAL
Affiliated wikias
Fan Translation
Due to the lack of official English translations for a large majority of the series, the only way for English-speaking readers to enjoy it is through the fan-translation. It is a non-profit effort, and if and when the series is picked up for licensing once more, the non official translation will cease.

Progress: Up to Verse 2 of Boogiepop Countdown
If you see this, your JavaScript might be disabled or DiscordIntegrator plugin isn't working. If the latter, please contact a wiki administrator.